Aluminium Sheet for Tankers Baffle
What is baffle of a fuel tanker
The inner structure of an aluminum alloy load tanker consists of bulkhead, baffle and corresponding supports. Baffles are bulkheads that have holes in them to let the liquid flow through. The baffles help control the forward and backward liquid surge. In these trailers, the internal movement of the product is minimal.
The longitudinal baffle is for reducing the left and right fluctuations of the liquid in the tank body. The transverse baffle is for reducing the front and back fluctuations of the liquid in the cylinder. In order to facilitate maintenance, there are also manholes with a diameter of not less than 550 mm on the transverse baffle. For better anti-waving effect, the manholes of different baffles in the same compartment.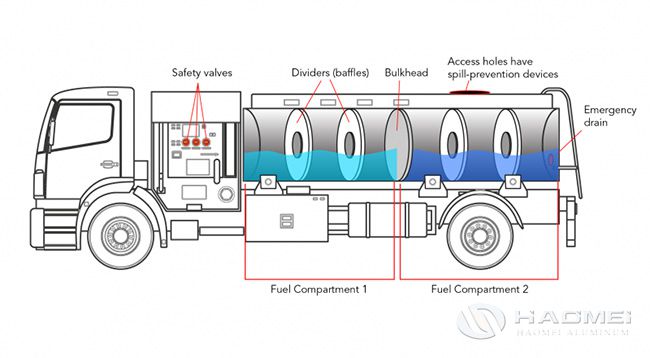 The advantages of aluminium plate for tankers baffle
The installation of the baffles enables the fuel tanker withstand the impact of the vehicle during the transportation process and have sufficient corrosion resistance. It also contributes to easy maintenance, lessen the vehicle weight and meet the safety performance of oil transportation.
The rigidity of the aluminum baffles is good, which is 30%-40% stronger than other material. It also can realize seamless fit to the cylinder to ensure the assembly quality of the cylinder and the baffles.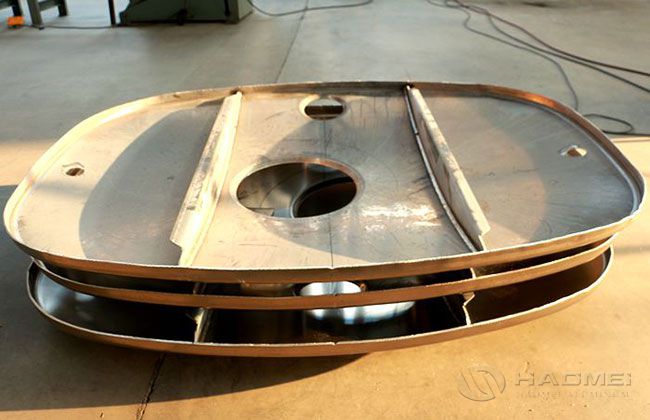 The manufacturing process of aluminum alloy baffles
The baffles can be made of 5454, 5182 and 5083 aluminum plate with O temper. The thickness is 5-6 mm. According to the size of the aluminum alloy oil tanker tank body, a number of baffles will be designed. The production of the baffles and the head is somewhat similar.
According to the drawings, the required shape is made by the plasma cutting machine and the edge machine. Different with bulkhead, there are multiple manholes of different sizes cut on the surface that are arranged in a staggered position. Finally, the baffles is welded to the cylinder body.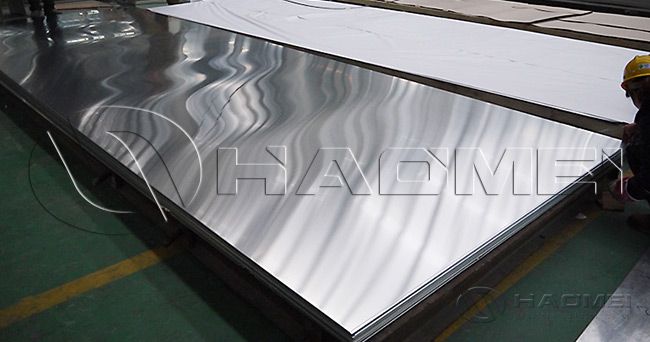 Specification of aluminum plate for fuel tanker
| | | | |
| --- | --- | --- | --- |
| Alloy | Thickness(mm) | Width(mm) | Length(mm) |
| 5083 | 2.0-8.0 | 1000-2000 | 2000-12600 |
| 5454 | 2.0-8.0 | 1000-2000 | 500-16000 |
| 5182 | 4.0-7.0 | 20-2650 | 500-16000 |
Packaging
Each piece of aluminum plate for fuel tanker will be covered with paper or film to ensure its smooth surface.

Plastic or kraft paper packages are used to prevent the aluminum sheet from the moisture and rain.

Install wooden pallets and use steel belts to reinforce them to avoid collisions during transportation.

The Aluminum sheets are packed in wooden boxes and brackets with fumigation marks.

The packaging can also be customized according to the customer's other packaging requirements.



Original Source:https://www.aluminumtankerplate.com/aluminium-sheet-for-tankers-baffle
Tags: aluminium plate for tankers baffle , aluminum plate for fuel tanker , 5083 aluminum plate
Contact Us