With 20 years' experience, Haomei Aluminum is a large modern aluminum tanker plate manufacturer facing to high-end market. Its series include aluminium plate for tankers and aluminum coil for aluminum coil for tank truck. The aluminium tanker plate can be divided into aluminium standard plate and aluminium wide plate .
Factory View
The factory occupies an area about 160,000 ㎡, with building about 120,000 ㎡. It has two main production lines: aluminum sheet production line and aluminum plate production line.

The aluminum sheet production line includes the following equipment: "1+1+5" hot mill, roller hearth heat treatment furnace, 8,000T stretcher, 2-stage and 3-stage aging furnace, phased array water immersion NDT device etc.

The aluminum plate production line includes the following equipment: CVC 6-hi cold mill, single coil annealing furnace, tension leveling line , continuous air cushion heat treatment furnace etc.

Typical Process Flow
The typical process flow of aluminum plate for tankers include casting, scalping, homogenising, breakdown rolling, hot rolling, cooling and cold rolling. We have continuous annealing and heat treatment line to simplify the whole process.
Technical force
Haomei Aluminum has more than 70 expert level engineers and has close cooperation with domestic colleges to do R&D. With rich experience in technology precipitation and service, we can provide timely and reasonable product solutions according to customer needs.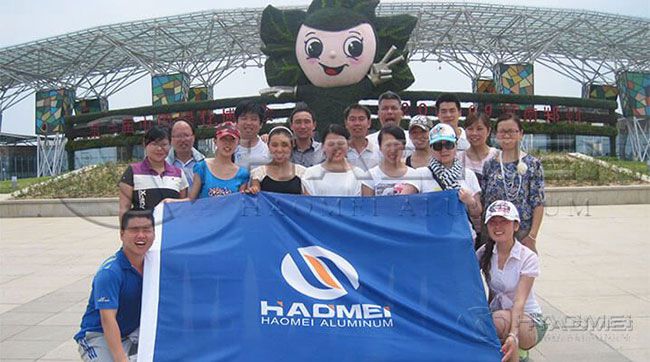 After-sale service
Haomei aluminum plate and aluminum coil for tank truck has been exported to over 100 countries such as Europe, the United States, Australia, Japan, Philippines. We have professional teams covering the whole process, including responsive pre-sales team, one-to-one sales team, professional manufacturing team and considerate after-sale tea, which ensure the short delivery of the quality aluminum plates.
Contact Us