Aluminum Plate for Semi Truck
What is semi truck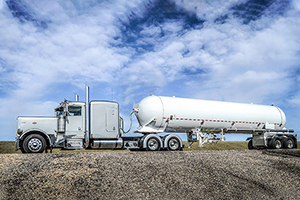 The semi truck is one of the important vehicles for road material transportation. It has a large carrying weight and high economic and energy efficiency. Compared with ordinary single tank trucks, semi-trailer tank trucks can effectively improve transportation efficiency. In the case of the same tonnage, it reduces transportation costs and saves fuel consumption.
Why choose aluminum plate for semi trailer truck
There are several advantages of the semi trailer truck made of aluminum plates:
1. Since the density of the aluminum plate for semi truck is small, the aluminum alloy semi trailer truck is of lighter weight and larger load,which can load more oil while meeting the transportation regulations.
2. The lightweight tank body can reduce fuel consumption. When the no-load driving speed is 40 km/h, 60 km/h, and 80 km/h, the fuel consumption of aluminum alloy semi trucks is reduced by 12.1%, 10% and 7.9% respectively than that of carbon steel tankers.
3. Moreover, aluminum alloy semi-trailer tankers can slow down tire wear due to their light weight, thereby reducing the maintenance cost.
4. The aluminum ally semi truck not only has a beautiful appearance, but also has excellent rust-proof performance, which which can avoid oil pollution and loss.
5. Due to its excellent corrosion resistance, the life cycle of aluminum semi-trailer fuel tank is 15-20 years while the life of carbon steel tanks is only 7-9 years. In addition, the aluminum has a higher recycling value.
6. Since the aluminum sheet has good conductivity, it can facilitate the timely conduction of static electricity generated during oil loading and unloading and transportation, reducing the probability of accidents.
7. In terms of driving safety, the inertia of aluminum alloy tankers during collision is small, and the braking distance is reduced, thus having higher safety.
8. It is easy to process such as welding, bending and deep strawing. Its processing technology is very mature. MIG, TIG, resistance welding, FSW and other welding methods can all be used to weld aluminum alloys.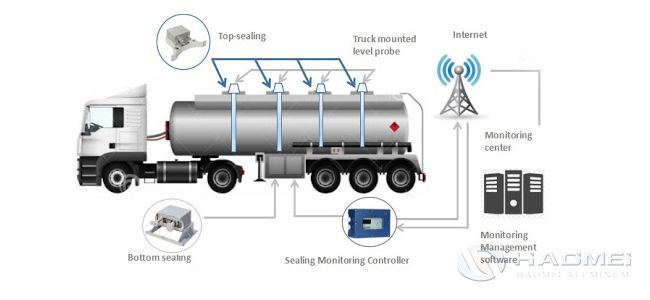 Different alloys of aluminum coil for tankers
In order to prevent corrosion of the car body, it is important to select materials with light weight, low density and strong corrosion resistance. 5454 aluminum plate has good forming and processing properties, corrosion resistance, weldability, medium strength, and its anti-rust strength is about 20% higher than that of 5052. Its corrosion resistance in harsh environments is better than 5154.
5083 aluminum plate is the main aluminum alloy plate for semi trailer tank truck. It is of high strength, corrosion resistance, good workability, and excellent arc weldability, so it is very suitable for tank materials after aluminum plate welding.
5754 aluminum alloy is one of the most commonly used materials for the tank truck manufacturing, featuring medium strength, good corrosion resistance, weldability and easy processing and forming properties.
5182 aluminum plate is used for the the latest high-magnesium alloy tanker which was born for the European road dangerous goods transportation agreement in recent years. Its tensile strength and elongation are relatively high.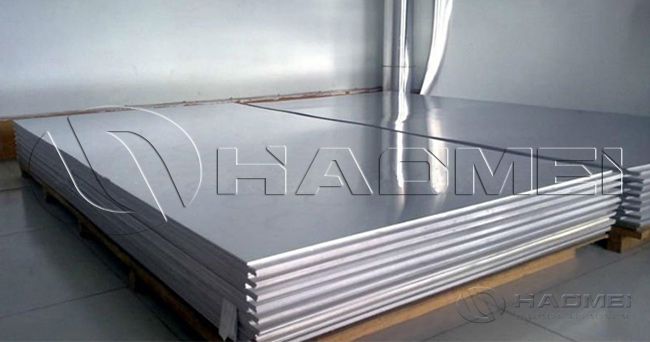 Specification of aluminum plate for semi trucks
Mechanical properties

Alloy

Temper

Yield Strength

Rp0.2(Mpa)

Tensile Strength

Rm(Mpa)

Elongation

A50(50%)

5083

O/H111

≥145

290-370

≥17

H32

≥215

305-385

≥12

5754

O/H111

190-240

≥80

≥16

H112

≥190

≥80

≥7

5454

H32

≥250

≥180

≥8

5182

O/H111

≥125

280-350

≥26
Size
| | | | |
| --- | --- | --- | --- |
| Alloy | Thickness(mm) | Width(mm) | Length(mm) |
| 5083 | 2.0-8.0 | 1000-2000 | 2000-12600 |
| 5754 | 2.0-8.0 | 1000-2000 | 2000-12000 |
| 5454 | 2.0-8.0 | 1000-2000 | 500-16000 |
| 5182 | 4.0-7.0 | 20-2650 | 500-16000 |
Original Source:https://www.aluminumtankerplate.com/aluminum-plate-for-semi-truck
Tags: aluminum plate for semi truck , aluminum plate for semi trailer truck , aluminium coil for tankers
Contact Us