5083 Aluminum Plate for Tankers Body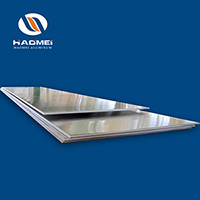 5083 aluminum plate for tanker body is Al-Mg aluminum alloy. The main alloying element is magnesium. The tensile strength is between 290-345Mpa and the yield strength is between 145-283Mpa.
It has good corrosion resistance, excellent weldability, good cold workability, and medium strength. It is widely used in aircraft fuel tanks, oil pipes, tank truck, sheet metal parts of transportation vehicles and ships, hardware products, and electrical appliance shell,etc.

Why Choose Aluminum Plate for Tankers
The aluminium alloy load tanker is about 20% lighter than the steel tanker of the same size, but the transportation can be increased by 30%. The aluminum alloy tanker body is composed of hoardings, wave-proof panels, tank mouths, etc. A complete tank body generally requires 4-6 aluminum plates to be welded together.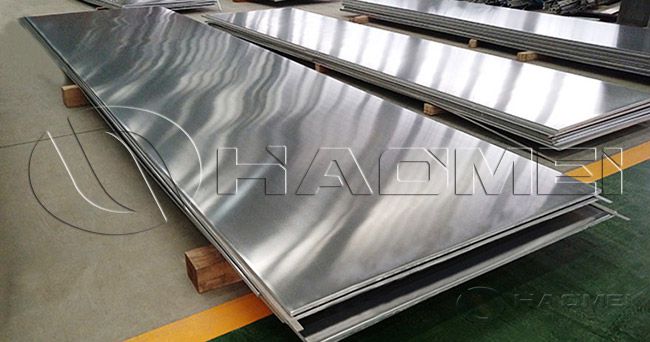 Haomei Aluminum Plate for Tanker Truck

1.We make use of a precision saw with an accuracy of ±1.5mm to ensure the accuracy of the 5083 aluminium plate.
Thickness (mm)

Thickness tolerance in different width ranges(mm)

>

≤

W≤1250

1250<W≤1600

1600<W≤2000

2000<W≤2500

3.0

6.0

+0.320

+0.320

+0.400

+0.450

6.0

8.0

+0.380

+0.460

+0.500

+0.600

8.0

12.0

+0.450

+0.560

+0.650

+0.800
2. The excellent corrosion resistance of Haomei aluminum sheet can ensure the 10-15 years service life of the tank truck.
3. With TUV and ISO/TS16949 certificate, Haomei aluminum plate for tanker has been exported to UK, USA, Japan, Europe, Australia, Philippines,etc.
4. With advanced 1+5 hot rolling mill and thick plate production line.
5. It makes use of melt multi-stage combined purification technology. The purity of the melt can reach aviation level, providing a strong basis for the high-quality aluminum tanker plates.
Specification of 5083 Aluminum Plate for Tanker Body
Chemical Composition of 5083 Aluminum Plate
| | | | | | | | | | |
| --- | --- | --- | --- | --- | --- | --- | --- | --- | --- |
| Alloy | Si | Fe | Cu | Mn | Mg | Cr | Zn | Ti | Unit |
| 5083 | 0.40 | 0.40 | 0.10 | 0.40-1.0 | 4.0-4.9 | 0.05-0.25 | 0.25 | 0.15 | Wt% |
Mechanical Properties of 5083 Aluminum Sheet
Alloy

Temper

Yield Strength

Rp0.2(Mpa)

Tensile Strength

Rm(Mpa)

Elongation

A50(50%)

Minimum Bending Radius of 180 Degree

5083

O/H111

≥145

290-370

≥17

1.5T

H32

≥215

305-385

≥12

/



Size
Alloy

Temper

Thickness(mm)

Width(mm)

Length(mm)

Application

5083

F.O,H12,H14,

H16,H18,H19,H22,H24,H26,

H28,H32,H34,H36,H38,H111,

H112,H114,H116,H321

0.5-500

20-2650

500-16000

Ships,moss LNG tank, air reservoir, car skin,GIS shell
Application of Aluminum 5083
LNG storage tank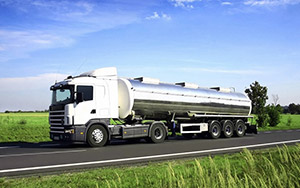 The liquefaction temperature of natural gas is -162°C, and the volume of liquefied natural gas (LNG for short) is 1/600 of the gaseous state, which makes the material requirements for LNG storage tanks higher.
Fuel Tanker
5083 aluminum is of low density and high strength. With lighter weight compared with steel tanker, aluminum alloy load tanker reduces fuel consumption and tire wear during transportation, thereby reducing daily operating costs and maintenance costs.
It has has strong corrosion resistance, greatly extending the service life of fuel tanker. At the same time, aluminum plate for tankers has a high recovery rate.
Air reservoir
The forming performance of 5083 alloy is is very good. The surface of the air storage cylinder is easy to naturally form a dense and firm protective film, which can protect the air cylinder from the corrosion, thus extending its service life.
Different Parts of Aluminum Alloy Load Tanker
The tank body is made of 5083-H111 aluminum plate and the tank lids on both sides are made of 5083-O aluminum plate. 5083 aluminum is softer in O temper for the tank lid needs bending. The bulkhead of the tank truck also use 5083-O aluminium sheet.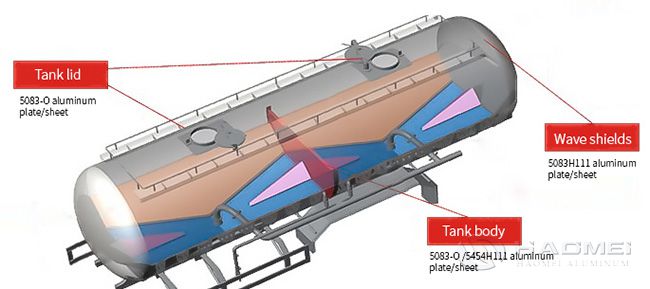 The Advantage of Aluminum Alloy 5083 for Tanker Body
1. Good economical benefits. The aluminum alloy tank truck is more than 4 tons lighter than the steel tankers with same specification and load 20% more than steel tankers. At the same time, it contributes to lower daily operating and maintenance cost.
2. High safety and reliable transportation. The aluminum alloy tank body has good compatibility with most chemical media and foods such as acetone, benzene, gasoline, diesel, kerosene, glacial acetic acid,etc.
3. Excellent corrosion resistance and long service life. The surface metal treatment for anti-corrosion is not necessary , The body will not rust when scratched and has a long-lasting bright surface. The usual service life is about 15-20 years.
4. It meets the lightweight trend of the vehicle. The popularization of aluminum tankers can effectively reduce energy consumption and emissions. At the same time, aluminum has a high recovery rate that the recovery value of the mere tank body is about 15,000$ according to the international aluminum price.
5. Environmental protection. Aluminum alloy tank trucks are environmentally friendly vehicles. The lightweight of aluminum alloy tank trucks means the less pollutant emissions and fuel consumption.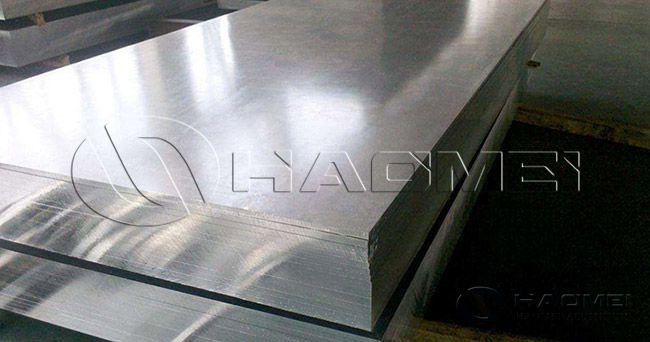 Original Source:https://www.aluminumtankerplate.com/aluminium-5083
Tags: 5083 aluminum plate , aluminum plate for tanker body , aluminium 5083 price
Related Blog
Related Application
Contact Us