Introduction
Aluminum alloy load tanker is the inevitable trend of automobile lightweight. The number of aluminum alloy tankers in Europe, the United States, Australia, Japan and other countries has reached more than 90%. The aluminum alloy load tanker is also developing fast. The global demand for aluminum tanker plate keeps increasing.
As a big aluminium tanker plate manufacturer, Haomei Aluminum can offer rich types of aluminum plates for oil tankers, Moss LNG tank, semi-trailer fuel tanker, etc. Our aluminum plate for tankers include 5083, 5454, 5182, 5754 and 5059 aluminum standard plate, aluminum wide plate and aluminum coil, which can be used to make tankers cylinder, bulkhead and wash board. The annual output is 50,000 tons.
Advanced Equipment
The casting production line of Haomei Aluminum makes use of multi-stage combined purification technology. The purity of the melt can reach aviation level, which provides a strong basis for for the production of high-quality aluminum plate for oil tanker. It can produce 3xxx, 5xxx and 6xxx aluminum alloy slab with a thickness of 620mm and a width of 1320-2650mm.
We have dvanced 1+5 hot rolling mill and thick plate production line. It can produce high-quality thick plates with a thickness of 3.0-305mm, a width of 1000-3800mm, and a length of 2000-27000mm. We also can provide aluminum coil for tankers with the thickness of 2.0-16 mm and the width of 2650 mm.
Superior Quality
Haomei aluminum plate for oil tank and LNG tank has passed the TUV certificate and ISO/TS16949 certificate. They are of excellent corrosion resistance and good weld performance. Various welding forms such as TIG, MIG, FSW, EBW, etc. can be used.
We can provide ultra-wide aluminum sheet and aluminum coil for tank truck to reduce welding seam, thus ensuring better corrosion resistance and solid strength. The width of aluminum sheet is 3800 mm and that of aluminum coil can reach 2650mm. The length is from 2000-27000mm.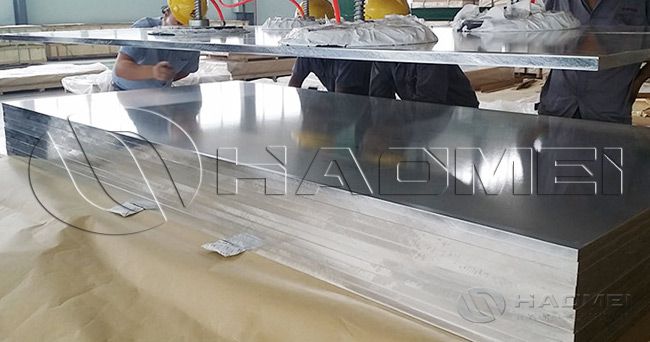 Contact Us